Attentive breath control is a proven-effective way to oxygenate the brain, boost mental clarity, soothe the nervous system and heal health issues such as asthma, insomnia, cancer….
La respiration en pleine conscience est une méthode prouvée efficace pour oxygéner le cerveau, clarifier l'esprit, calmer les nerfs et même lutter contre les maladies comme l'asthme, l'insomnie, le cancer….
Techniques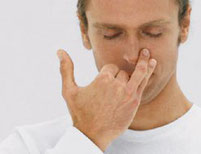 These time-tested breathing exercises are easy to learn and to use regularly. It's a practical way to regain control over your reactions and better enjoy your life.
Ces exercices millénaires sont faciles à apprendre et à utiliser tous les jours pour gagner en résilience face aux hasards parfois difficiles de la vie. Attention, il est important de suivre de près les consignes d'un professionnel expérimenté.
Science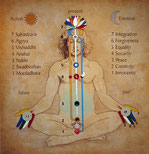 Combining pranayama with mudras (hand postures that leverage acupressure to channel energetic flows through the chakras) significantly improves the potential benefits of these soothing techniques.
La maîtrise du souffle associée aux mudras (postures des mains qui stimulent la circulation des énergies) augmente les bienfaits du Pranayama.