Attentive breath control is a proven-effective way to
oxygenate the brain,
boost mental clarity,
soothe the nervous system and
soothe heal health issues such as asthma, insomnia, cancer….
Techniques
These time-tested breathing exercises are easy to learn and to use regularly. It's a practical way to regain control over your reactions and better enjoy your life.
Science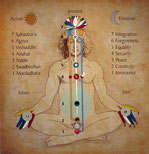 Combining pranayama with mudras (hand postures that leverage acupressure to channel energetic flows through the chakras) significantly improves the potential benefits of these soothing techniques.
Sundays in Saint Germain en Laye with Bridget
All levels
Bilingual English & Français